Is your birthday coming up and are you looking for a creative birthday party? Come and celebrate your birthday at Bibelebon children's' atelier.
And the best thing? You can put your party together just the way you want it. You choose the activity, would you like to have a piece of freshly baked apple pie, to decorate cupcakes together or to bring your own cake? I have birthday plates available. If you're not ready to go home straight after the activity, I can provide chips and a snack for you and your friends.
Sounds good? I'd be delighted to put the birthday bunting up for you

What does it cost?
€ 19,75 per child (minimum 6, maximum 12 children). In the case of less participating children, you pay for six.
Tip: It can be hard to decide how many children your son or daughter can invite, I suggest the same number of friends as your child's age. Young children get easily overwhelmed by having a lot of friends around to celebrate their birthday, but this gets easier as they get older. If this means an odd number, you can round the number of children up or down, to be sure that no-one feels left out.
How long does a children's party last?
The party lasts two hours. If the children are having chips, hotdogs or poffertjes after the activity, then it'll last a little longer.
What's included in the price?
All needed craft materials, sweets and unlimited squash. For the parents coffee, cappuccino or fresh mint tea. At home time, the children get a surprise to take home with them.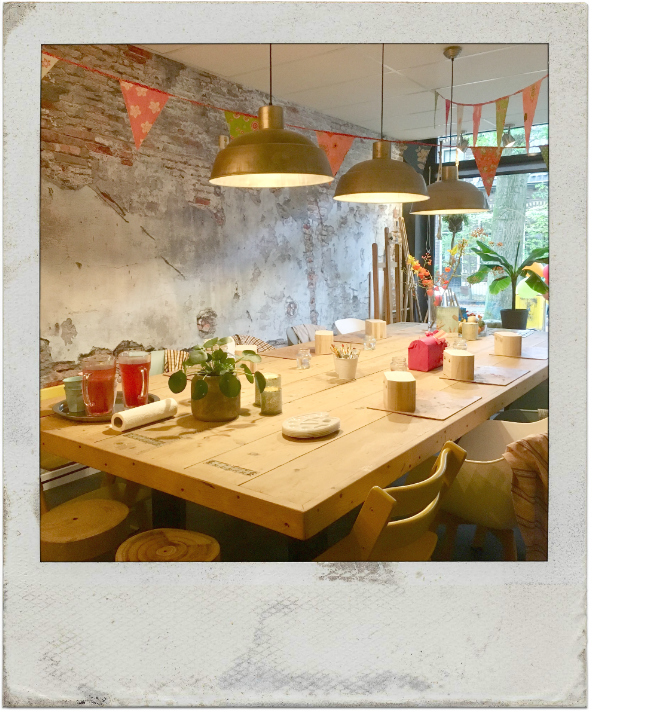 Would you like to add something?
Decorating cupcakes € 2,50 p.p.
Icelolly or crisps (grab bag) € 0,75 p.p.
Freshly bake apple pie € 22,75
Cheesecake with cherries € 22,75
Healthy snacks € 19,00
(cheese, sausage, tomato, carrot and cucumber)
Chips and frankfurters € 4,75 p.p.
Hotdogs € 4,25 p.p.
Poffertjes (mini pancakes) € 4,50 p.p.
Personalised invitations (handmade) € 2,50 p.p.
For whom?
Children aged from 4 to 14 years old.
When?
On Wednesday from 1:30 PM to 3:30 PM, Friday after 2:00 PM or Saturday from 10:30 AM until O:30 PM or from 3:00 PM until 5:00 PM.
Finally
During the party, the presence of a parent is desired in children up to 11 years. This in connection with requests for help from the children during the party.
Children make the chosen item during the workshop according to their own taste. There is always a wide choice of beautiful materials and decoration.
It is recommended to give the children to the party old clothes. Bibelebon KinderAtelier is not liable for stains in clothing (there are aprons available).
How do I book?
Call 06-46195989 or send an email to info@bibelebon.nl