During a bachelorette (or bachelor party) the bride or groom is the focal point of the evening. The location, date, time and the answer to the whether you're going to have one at all are kept quiet until the last minute, to be sure that the bride/groom is as surprised as possible.
Do you have a bachelor(ette) party to organize soon? I'm happy to help you put together as creative, fun and complete a party as possible.

What does it cost?
€ 45,00 per person (minimum of 8 adults, maximum of 12).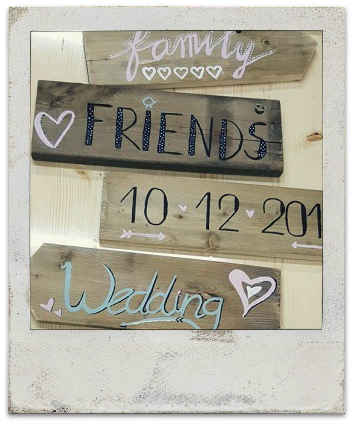 the bride (or groom)-to-be is included free of charge.
How long does the party last?
A bachelor(ette) party lasts two and a half hours.
What is included?
We start the evening off with a glass of bubbles
Unlimited coffee, tea, fizzy drinks and nibbles
A tray of snacks
Wine or beer
All the craft items needed for the evening.
When?
On Wednesday or Friday evening or Saturday afternoon. Other days may be possible by prior arrangement.
How do I book?
Call 06-46195989 or send an email to info@bibelebon.nl

Back to top